| | |
| --- | --- |
| | Welcome to 160knots.com ! |
| | | |
| --- | --- | --- |
| | Flying into Chiriaco Summit ! | |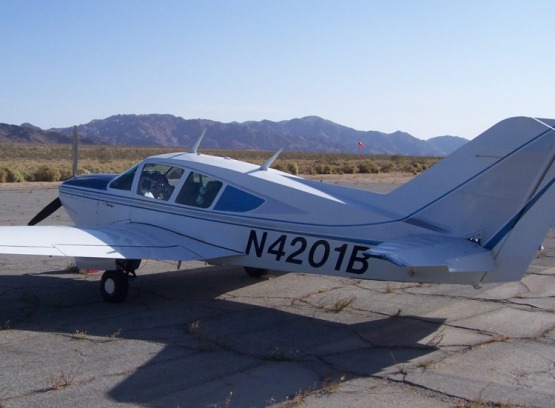 Bellanca Super Viking N4201B on the ramp.
Best time of the year to go?
Fall though Spring
Flight time in a Super Viking from KAJO?
0.5 hours
Food on the airport?
Yes, two places
Fuel on airport?
No
Landing or Parking fees?
No
Comments about arriving and departing.
Can't see other end of the runway. Daytime operations only.
Things to do on or near the airport.
~ Visit the General George Patton Museum.
~ Eat at the Cafe or Foster Freeze.
Rate this stop with 10 being best.
7, it's good for a couple of hours.
| | | |
| --- | --- | --- |
| | Landing at Chiriaco Summit | |
The airport was built for none other than General George Patten and the area was a training ground for his African Troops.
Today it's a popular stop for travelers and truckers who want to gas up, get a home cooked meal, browse the unique gift shop at the Chiriaco Summit store or enjoy a cold dessert from Fosters Freeze.
In the early 1900's, there was a gravel road out of Box Canyon that passed by Shaver Summit, running east toward Blythe. With rumors of new paved road between Indio and Phoenix, Joe Chiriaco began constructing a building, and on August 15, 1933 Joe Chiriaco opened his gas station and general store. He had one dollar in his cigar box till, and that dollar remains at the Summit. That same day, the new two-lane blacktop U.S. 60 also opened. passing in front of Shaver Summit. With the new U.S. 60 road opening, the gas station and general store thrived.
About the same time as Joe Chiriaco began the business, the Metropolitan Water District began construction of the aqueduct project that would carry water from the Colorado River to the population basins of the Los Angeles area.
After the completion of the aqueduct project, the desert returned to business as usual and until the spring of 1942, when Gen. George S. Patton established the Desert Training Center, with its headquarters at Camp Young, adjacent to Shaver Summit. Shaver Summit was the only place of its kind on limits to the soldiers for many miles. As Paul Wilhelm, a former soldier in the area at the time said, "Everything about Shaver's Summit-of-the-road dispensary drew us like bees to blossoms."
In 1958, a rural branch of the U.S. Post Office was opened and the name of the area was changed from Shaver Summit to Chiriaco Summit. Today, Chiriaco Summit is a family owned corporation with son Robert as the General Manager and daughter Margit continuing to work in different facets of the business.
| | | |
| --- | --- | --- |
| | Pictures of Chiriaco Summit ! | |
| | |
| --- | --- |
| | The General George Patton Museum |
| | The General George Patton Museum |
| | The airport was formally know as Camp Young and built by General George Patton. |
| | The Chiriaco Summit Cafe |
| | The Chiriaco Summit Cafe on the right. |
| | |