| | |
| --- | --- |
| | Welcome to 160knots.com ! |
| | | |
| --- | --- | --- |
| | Landing at Catalina Island (KAVX)! | |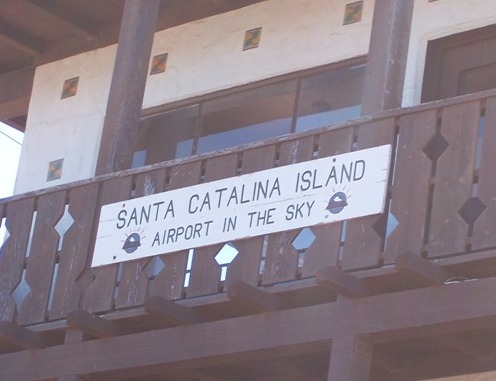 Best time of the year to go?
October though May to avoid the crowds.
Flight time in a Super Viking from KAJO?
22 minutes
Food on the airport?
Yes
Fuel on airport?
No
Comments about arriving and departing
Rough pavement. Can't see opposite end of runway. $20 landing fee. No services. Chock your wheels, the ramp slopes.
Rate this trip
10 being best, 5 being average.
8.0
| | | |
| --- | --- | --- |
| | | |
| | | |
| | | |
| | | |
| --- | --- | --- |
| | Day trip to Avalon, California ! | |
A friend of mine, Tom Atwell, lives in Long Island and recently said how lucky we were to have so many different types of aviation destinations in the west. He's right, where else can we go from Snow Boarding to Surf Boarding in a 80 mile flight? Catalina Island is one of those west coast jewels Tom is referring to!
The island is about 25 miles off shore depending where you cross. I typically cross where the Santa Ana River meets the Pacific over flying KSNA class C while staying under KLAX class B. Talk to SoCal approach however because there is a lot of jet traffic just off the coast line.
After landing go upstairs into the control tower type structure and give the man your $25 landing fee. He can also arrange transportation to town for you, it's a 30 minute drive. Getting to town can be pricey, I hear a taxi is $80 each way but scheduled transportation is $15 each way. There are several good restaurants and hotels in Avalon.
Unless you plan on visiting just the downtown Avalon area think about renting a golf cart. They are cheap and two or three places rent them. With a cart you can explore the entire Avalon area but you will be limited to the south end of the island.
You can eat on the airport if you like. There is a gift shop and restaurant on the field. Sit on the patio eating the buffalo burgers and watch your burgers off spring grazing on the hill sides. In addition they have a all you can eat tri-tip BBQ about 10 times a year. See http://www.buffalospringsstation.com/ for more information.
Several hiking trails pass by the airport. You can spend an hour or day hiking the island. The Airport Loop is pretty easy and a fun hike too. Like the name says the trail starts and ends at the airport.
Heads Up! If you are a renter most SoCal flight schools require a Catalina check out with an instructor before landing at Catalina.
Spend some time at the Catalina airport and you will see a lot of pilot error and go arounds. There is NOTHING WRONG with a go around itself, it's a good idea when needed, but what lead up to the need for a go around is the problem.
Issues I see at Catalina:
Runway 22
A right traffic pattern to the common runway. Like all right patterns the pilot can't see the runway in a turn. Not a big deal in itself but you are 2200+ feet over the water turning final and you don't watch the altimeter you'll roll out way low.
Wind blowing down the runway causes a downdraft short final causing you to add power. Frankly, most pilots come in too high and hot to know this.
There is a optical illusion on final. Focus on the approach end numbers.
The runway slopes up hill and pilots who watch the departure end come in way high. The next mass of land beyond the departure end is Japan. Seeing nothing but blue water messes with the mind.
The VASI is single box system and pilots don't understand it.
KAVX continues to land on runway 22 even with a 8 to 10 knot tailwind because it's uphill.
After landing you can't see the other end of the runway but you know it drops off a clift. It always looks like there is only 500 feet of runway remaining. It helps if you note the locations of the intersections for a reference before landing. If you feel like being nice tell you passengers too. I saw a BE-55 lock up his brakes, blue smoke and everything, when he had 2000' feet of runway ahead of him. It was all I could do NOT to ask the pilot if it was his first landing at KAVX.
Runway 04 (It's rare to have this condition)
There is no VASI.
You are landing downhill.
The optical illusion is still there just like a runway 22 landing. Focus on the approach end numbers.
Just when you expect a downdraft on short final you get a huge updraft.
If you are landing runway 4 the wind is strong and gusty and the Santa Ana's are blowing.
My limited experience on runway 04 is 50% of the pilots go around the 1st try. I want to say 75% but Ill assume it was a bad day.
Santa Catalina Island is a great trip. Have a wonderful time!
| | |
| --- | --- |
| | Cirrus N314CP lands long at Catalina and goes off the end. |
| | An expensive lesson. |
| | Avalon Harbor |
| | Avalon Harbor |
| | The Casino |
| | The terminal building |
| | N4201B in front of the terminal |