| | |
| --- | --- |
| | Welcome to 160knots.com ! |
| | | |
| --- | --- | --- |
| | Columbia Fly-In 2007 | |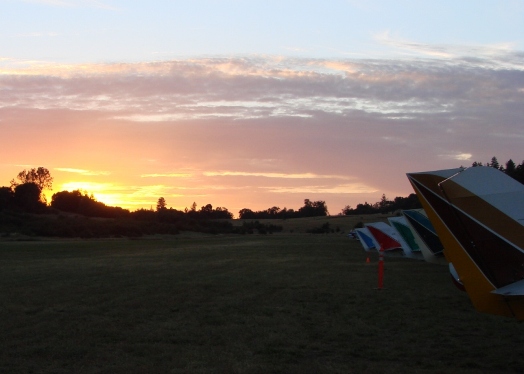 Best time of the year to go?
Spring but this is a year round destination.
Flight time in a Super Viking from KAJO?
2.0
Food on the airport?
3/4 mile walk to town.
Fuel on airport?
Yes
Comments about arriving and departing
Watch for traffic on the crossing runways. No departures from runway 11
Rate this trip
10 being best, 5 being average.
9.0 Beautiful country, fun location for the spouse. I'd give it a 10 but the walk to town is about a mile.
| | | |
| --- | --- | --- |
| | | |
| | | |
| | | |
| | | |
| --- | --- | --- |
| | 2007 Bellanca-Champion Club Fly-In | |
Columbia is a former California Gold Rush boom town that lives on as a state-preserved historic park and a National Historic Landmark that preserves the original, gold-rush-town flavor of the town, once dubbed the "Gem of the Southern Mines." Founded in 1850 by Mexican gold miners, it is in Tuolumne County, California, United States. Although only about 2,000 people now live in this region near Sonora, California, at its height it was California's second-largest city. It was even considered briefly as a site for the state capitol of California. In 1854 the bulk of the town burned down and was re-built with brick and iron structures that survive to this day. Columbia's main street, part of the Columbia State Historic Park, is closed to automobile traffic but open to horses and carriages, as well as pedestrians.
Within weeks of the discovery of gold in the vicinity of Columbia, thousands of miners arrived and the population climbed to 5,000. By 1852, there were 8 hotels, 4 banks, 17 general stores, 2 firehouses, 2 bookstores, 1 newspaper, 3 churches, and numerous gambling and drinking establishments. In 1854, Columbia's first fire destroyed 6 city blocks. The town was rebuilt using brick and iron materials. In 1857, another fire burned down nearly everything else, except the brick buildings.
The Columbia school house was built in 1860, renovated in 1872, and finally closed in 1937. In 1947, it was purchased by the state of California for $1 and incorporated into the state-historic park.
Between 1850 and the early 1900s, $150 million in gold was removed from the surrounding hills. By 1860, the gold mined in Columbia was diminishing rapidly. The only land left to mine was in the city itself. Miners dug under buildings and tore down houses to get at the gold beneath the city. Columbia never became a ghost town. In 1945, California created Columbia State Historic Park from the remains of the historical buildings of the city.
| | | |
| --- | --- | --- |
| | Pictures from the Fly-In! | |
| | |
| --- | --- |
| | Last year we were told we had too many airplane pictures and not enough people pictures. I have no idea who many of these people are but here goes. If you can help me match faces to names please give me the photo ID number and the names. |
| | Rod ? |
| | 3 |
| | 4 |
| | 5 |
| | John Christensen |
| | ?, Sandra Hendrickson, Richard Hendrickson, ? |
| | ?, John Sulley, Jim Spee |
| | John Sulley, ? |
| | Allen Hartstine |
| | 11 |
| | Susan Gardner |
| | Ron & Charlotte Taylor |
| | 14 |
| | John Armanino & Ozzie Levi |
| | 16 |
| | Bruce Barton |
| | Dan Cullman & Bill Archibald next to Larry Bell's Cruisair. |
| | 19 |
| | Brian Torrey, ? |
| | Joy Adams |
| | ?, ?, Dan Cullman, Larry Loewenkron |
| | 23 |
| | Chuck Sandford |
| | ?, Bob Szego, ? |
| | Steve Henderson, George Butts |
| | Jim Spee, Ron Taylor |
| | George Craig, Jim Spee |
| | George Butts |
| | Larry Bell, Jim Spee |
| | George Butts |
| | Randy Smith |
| | Dan Torrey & Ozzie Levi |
| | 34 |
| | 35 |
| | 36 |
| | Ozzie Levi's N6504N a 180 hp 14-13-2 |
| | 38 |
| | 39 |
| | 40 |
| | 41 |
| | 42 |
| | 43 |
| | 44 |
| | 45 |
| | 46 |